April 16th, 2018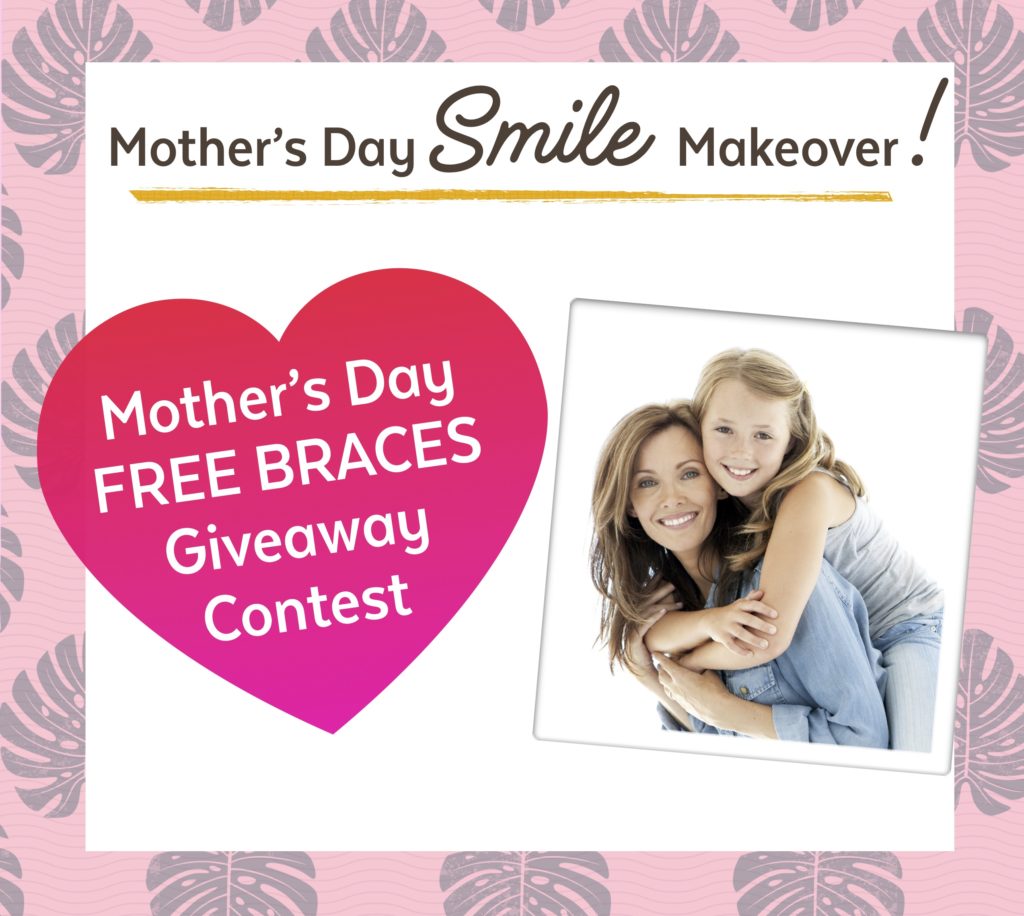 Here at Pulver Orthodontics, our team understands the sacrifices that mothers make on a daily basis and want to celebrate the incredible influence these amazing women have on their families and those around them. We hope to "pay it forward" by doing what we do best — creating beautiful smiles and making someone feel like a star!
We are also offering a 5% discount to those who enter but do not win the grand prize. Submit your entry on Facebook, and call us for a complimentary consultation!
OFFICIAL RULES OF MOTHER'S DAY SMILE MAKEOVER CONTEST:
1. Participants: Pulver Orthodontics Mother's Day Smile Makeover is free and open to residents of Harris and Fort Bend counties, TX. You can also nominate yourself. Employees of Pulver Orthodontics and their immediate families are not eligible.
2. How to Enter: The Mother's Day FREE BRACES GIVEAWAY CONTEST runs from April 16th until May 18th. To enter, first follow us on facebook (@pulverortho). Then submit a photo of yourself (if you are a mother and wish to enter) or of your mother, with a brief description (500 words or less) explaining what a smile makeover would mean to you. Additionally, please provide your name, current mailing address to receive the confirmation of your entry. Entries must be emailed to: aloha.houston@pulverortho.com and received by May 18th, 2018 by midnight EST.  Limit one entry per person. Each entry must be complete to be accepted.
3. Winner Notification: Winner will be selected by the Pulver Orthodontics Team and will be announced on Tuesday, May 29th, 2018 by 5PM on Pulver Orthodontics Facebook Page along with their story.
4. Prize: One mother will be selected as the winner of the Orthodontic Smile Makeover Contest. The prize will be FREE orthodontic treatment with braces provided by Pulver Orthodontics. Pulver Orthodontics will use orthodontic appliances most appropriate for the case. The prize will cover one set of placed appliances. There is no actual cash value to the prize. No portion of the unused prize may be redeemed for cash. Frequent broken appliances and replacement retainers are subject to charge. In the case of Invisalign treatment, a lab fee only will be charged.
5. Property: All entries become property of Pulver Orthodontics, which assumes no responsibility for late, misdirected or lost entries. By entering this contest, entrants agree that all parts of their entries may be published by Pulver Orthodontics. Winners consent that Pulver Orthodontics may use winner's names, photographs, or other likenesses, the winners' hometown and biographical information, contest entry and statement concerning the contest entry, without compensation for purposes of advertising, promotion, and grant all rights to edit or modify and to publish and copyright it. All information submitted by entrants as part of this contest may be used by Pulver Orthodontics to communicate with entrant.
6. Limitation of Liability: By participating in this contest, entrants and participants agree to release and hold Pulver Orthodontics, doctors and employees, harmless against any and all claims, causes of action and liability arising out of the award and use of the prize and their participation in this contest.
7. Law: Void where prohibited or restricted by law. Taxes, if applicable, are the sole responsibility of the winner. Additional restrictions may apply. In the event that this contest is challenged by legal authority, Pulver Orthodontics reserves the right to discontinue or modify the contest or disqualify any participant.